Daily Gold Analysis 19th April 2016 ( Update )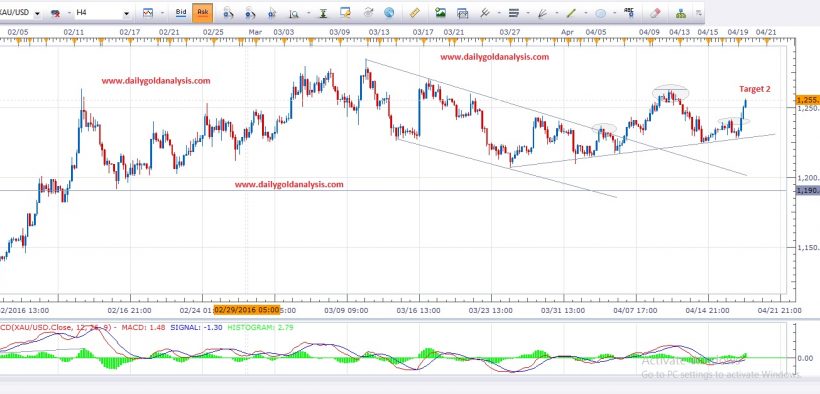 Good Evening Forex Friends 
In our morning analysis we  discuss head and shoulder with alternate pattern.Gold bounce from the rising support and break the resistance of 1243 , Alternate works this time and gold hit our first target , second target is at 1263. 1253 level is also the resistance of symmetric triangle we have discuss that in our daily time frame analysis.We will wait for today closing to get better idea for gold next move.I am sharing 4 hour time update chart below.Please have a look.
I am also sharing previous 4 hour chart for the reference of previous analysis.
Note : Those who follow morning analysis should close half position at 1253-54 and move stop loss to entry point to enjoy risk free trade.
 Never risk more then 2% of your account capital in single trade.Always trade with proper risk management plan.
Site Announcement And Updates
We are also starting video analysis soon.We are working to make quality videos to give better understanding of our analysis.Our team is working to start education session very soon for beginners to understand the Forex basics.Those who want pro Forex technical analysis course can contact us via email.
Trade Recommendations : Those who want our trade recommendations with proper entry and target points may contact us via email.We have set our minimum fees for the paid clients.
( Our paid clients got handsome pips in today trade idea )
Forex Education : Those who want to learn forex technical analysis can contact us via email.We will start our skype classes session for interested members.
Email : admin@dailygoldanalysis.com
Skype : mati_ji
Feel free to comment below if you have any concern regarding charts and analysis.Your feedback is always welcome and help us to improve.
Wish you good luck and happy trading
Mati Ur Rehman
Gold Analyst @ dailygoldanalysis.com